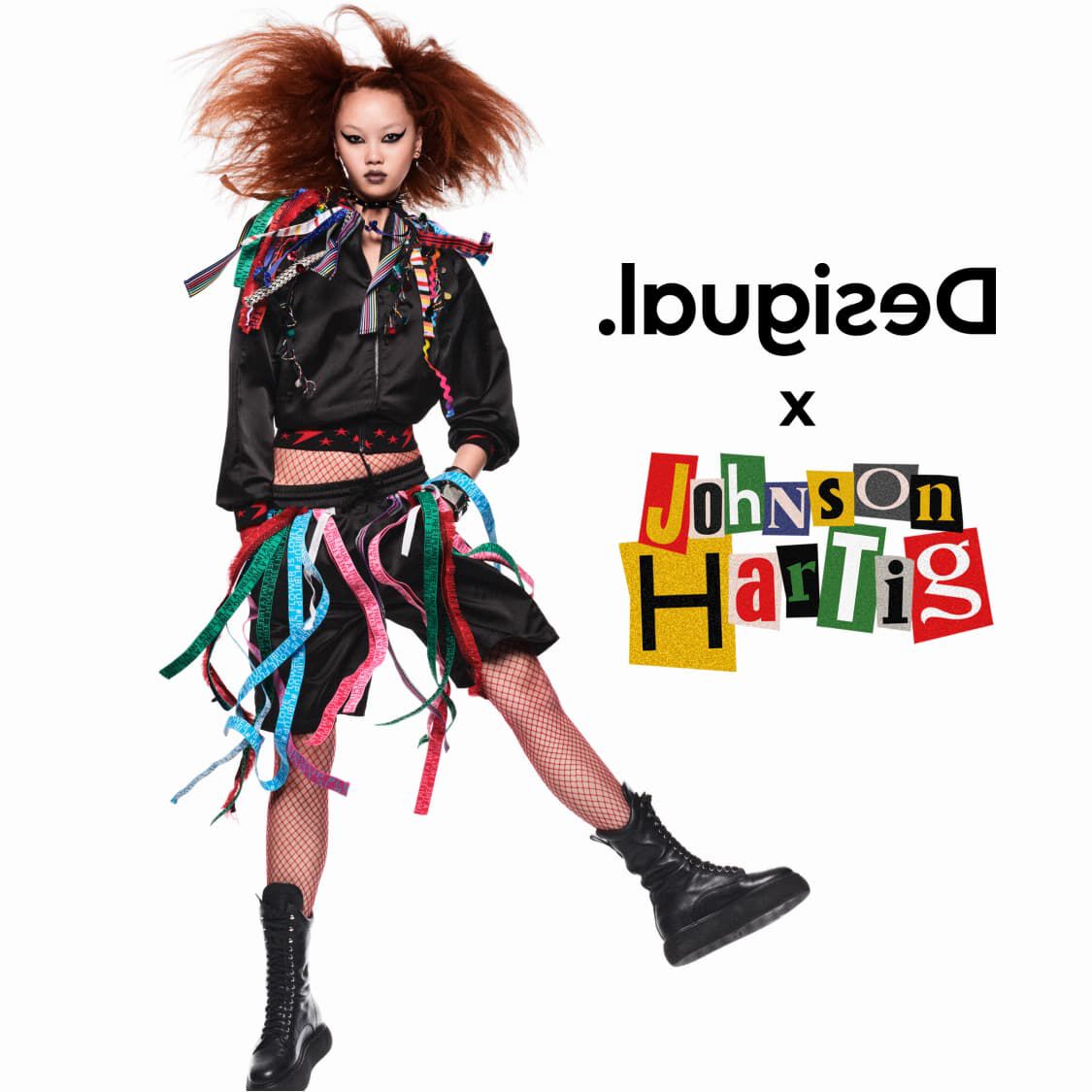 A celebration of excess!
Desigual joins forces with L.A. designer Johnson Hartig of Libertine
Campaign by photographer Daniel Jackson
Barcelona, February 2022.
Johnson Hartig (founder of Libertine), is one of the industry's most disruptive creative geniuses. Ans, Desigual, is a brand that's always been committed to inspiring creative people who choose Desigual garments to express their fearlessness.
We both share the same vision when it comes to creating fashion: mixing inspirations in a way that's as eclectic as it is meticulous; playing with colour, championing patchwork, combining prints. Basically, being bold, having fun and delivering surprising, non-conformist, and uncompromising creations.
So, a collaboration between Desigual and Libertine is a natural fit, because we're both strong believers in the idea that MORE IS MÁS. Más colour, más collage, más patchwork, más mixing. More Libertine. More Desigual.
"Desigual," says Hartig, "is known for vibrant patterns and color, much as my brand is, so it was a joy to know that I could really go as wild as I wanted with print and colour. My designs are actually more subdued than many of Desigual's usually are. You'll see we did this incredible patchwork print that was bright but not super oversaturated."
Collection details
Developed around the concept of juxtaposing elements, the #DesigualXJohnsonHartig capsule is a celebration of the convergence of two creative universes, that of the famous American designer and also of the Spanish brand.
The 25 garments that make up the collection are truly unique. Highlights include a bomber jacket that's impossible to forget: it's black nylon fabric is contrasted by countless colourful ribbons stitched on the neckline. These ribbons feature statements representing Johnson Hartig's philosophy, which are alternated with coloured beads, glitter, fringing and more. To create an impactful total look, a matching pair of Bermuda shorts was paired with this garment. Or another striking combo ,for those who dare to be even bolder: a zip-up hoodie and a pair of shorts covered in sequins and contrasting patches. More is más!
The collection also makes room for endless mosaics of mesmerising prints, a hallmark shared by both Desigual and Johnson Hartig, himself. Other garments that are sure to become bestsellers have more of a preppy vibe, these include a blazer – and matching shorts – in Vichy checks of different colours and sizes with stitched-on patches.
Touches of denim, crochet embroidery, rhinestone appliqués, graphic print T-shirts, a hat and two unforgettable pairs of sneakers round out the capsule. A direct call to those with a unique perspective who live for and express themselves with fashion.
About Desigual
Desigual is an internatioxsnal fashion brand that was established in Barcelona in 1984. It is famous for the individuality and unique character of its creations, which aim to bring positivity and authenticity to thousands of people who want to express the best version of themselves.
The company currently has a workforce of over 2,700 employees and is present in 100 countries through 10 sales channels, 415 monobrand stores and 6 product categories: Woman, Man, Kids, Accessories, Shoes and Sport.
About Johnson Hartig
Founder of the label Libertine, Johnson Hartig's designs navigate a whimsical path between old-school classics and the cutting edge, with a strong desire to revolutionise ready-to-wear. A master of screen printing, embroidery and overall embellishment, his creations reflect influences from the history of art, fashion, design and more.
Throughout his career, Hartig has collaborated with the likes of Damien Hirst and brands such as Goyard and Converse, while his greatest advocates include Anna Wintour, Karl Lagerfeld, Mick Jagger, and even Cher herself. He currently lives and works in L.A. with his dog Flower.